Watch your tongue: Prejudiced comments illegal in Brazil.
Brazilian lawmakers and law enforcement have drawn the line on free speech when it comes to racial, religious, or ethnic agitation – even though it is a constitutional right.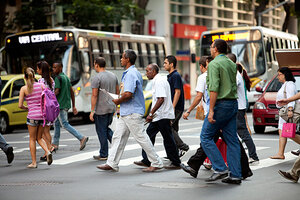 Melanie Stetson Freeman/The Christian Science Monitor/File
In an amateur online video, Afonso Henrique Alves Lobato describes how he and fellow members of his Evangelical church snuck into a spiritual center of Umbanda, an Afro-Brazilian faith that venerates deities originating from Africa in services led by a religious figure called a pai de santo.
"I saw a pai de santo, gay, of course, because every pai de santo is homosexual," the young Mr. Lobato said. "As everyone knows, a [Umbanda] spiritual center is a place where the devil is called upon."
Brazilian authorities had no tolerance for his remarks. Lobato and his pastor, Tupirani da Hora Lores, who reportedly posted disparaging remarks about other religions online, were swiftly jailed and charged with a crime: religious intolerance.

These men were the first to be jailed for such a crime in Brazil when authorities detained them pre-trial. In July the pair was found guilty and given a sentence of community service and a fine.
"No one should imagine that these religious men are being unfairly punished," Rio's prominent crime columnist, Jorge Antonio Barros, wrote in the national O Globo newspaper. "Nobody has the right to disrespect someone else's religious practices, all the less so in the name of God."

This kind of ruling may seem entirely foreign to a US audience, used to vigorous freedom of speech protection. But in Brazil, this type of ruling is the norm – especially as social media opens up a new, visible outlet for offensive comments.
---