Showdown looms between Argentina's Kirchner and her biggest media critic
Argentina implements a media law on Dec. 7 that President Kirchner says encourages a plurality of voices and opponents like Grupo Clarín call an assault on free speech and democracy.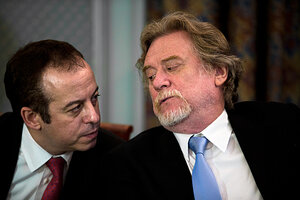 Victor R. Caivano/AP
President Cristina Fernández de Kirchner's battle with the press is set to intensify this week as Argentina implements a polemic media law that her administration says encourages a plurality of voices and that opponents call an assault on free speech and democracy.
The country's biggest media conglomerate, Grupo Clarín, has until Friday to tell the government how it will divest itself of assets under a 2009 antimonopoly ruling.
Clarín, once an ally of President Kirchner and her late husband and predecessor, Néstor, is now openly opposed to the government. The group owns Argentina's best-selling newspaper, and controls 59 and 42 percent of the cable TV and radio markets, respectively, according to AFSCA, the body enforcing the law.
The government says the other 20 media companies required to divest are complying with the law, but Clarín, the group most affected, argues it is being deliberately targeted as Kirchner seeks to suppress criticism of her administration. It also claims the law is unconstitutional, something the judiciary has yet to rule on.
This Friday's deadline falls days before the anniversary of Argentina's 1983 return to democracy after a seven-year dictatorship. As the country prepares to celebrate, some fear the media law could lead to a deficit of independent reporting: Clarín is one of the few news organizations not reliant on the government via advertising subsidies.
"There's no freedom of expression without an independent press," said Héctor Magnetto, Clarín's CEO. "If one is weakened, both could be at risk."
---