Newtown shooting cranks up Canada's gun-control debate
The massacre in Newtown comes just a week after the anniversary of the 'Montreal Massacre' that inspired Canada's strict gun laws – which the current government has been easing.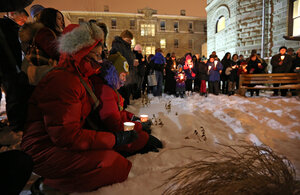 Trevor Hagan/AP/The Canadian Press
Though the massacre in Newtown, Conn., last week has drawn sympathy from all over the world, it has a particular resonance in Canada.
The shooting at Sandy Hook Elementary School that left 26 victims dead, including 20 children, comes just a week after the 23rd anniversary of Canada's own "Montreal Massacre," which reshaped the country's gun laws. Moreover, it occurred even as Canadians recently renewed calls for stricter controls on firearms access here amid ongoing efforts by the Conservative government to ease firearms laws.
Prime Minister Stephen Harper offered his condolences to the Newtown victims' families while calling the shootings "senseless." But critics here accuse Mr. Harper's government of practically standing alone among Western nations in rolling back gun-control protections in recent years – most noticeably by scrapping the "long-gun" registry, which logged all of the country's rifles and shotguns, in 2011.
"It has been a useful issue for the Conservative government over the last few years; the registry for a long time was a symbol of government waste," says Blake Brown, an associate professor of history at Saint Mary's University in Halifax and the author of "Arming and Disarming: A History of Gun Control in Canada." [Editor's note: The original version misnamed Mr. Brown.]
---