'We are millions': Victims of organized crime in Mexico seek justice in new law
In a country where fewer than 4 percent of crimes are ever solved, the so-called 'victims law' will provide financial reparations and additional legal protection.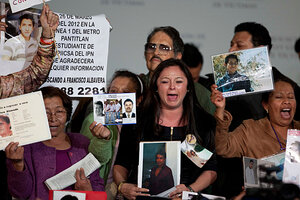 Eduardo Verdugo/AP
Rocío Uribe Ruiz stood at the back of a conference room in the Mexican presidential residence, silently holding a picture of her missing daughter, as President Enrique Peña Nieto touted a new law to protect victims of the country's devastating organized crime epidemic.
With more than 60,000 people killed in drug violence in the past six years, and tens of thousands more disappeared, Mexico now faces the monumental task of addressing the needs of the growing group of those affected. The new legislation, signed into law this week, promises to do just that. For the first time, Mexico will specifically address victims' rights with additional legal protection and financial reparations, among other benefits.
Dozens of relatives whose loved ones have disappeared without a trace — and whose cases have gone nowhere in a country where fewer than 4 percent of crimes are ever solved — squeezed into the packed Los Pinos hall as Mr. Peña Nieto announced that with the law, only the second of its kind in Latin America, "the Mexican state aspires to return hope and comfort to victims and their families."
"It gives me hope," says Ms. Uribe Ruiz, whose 14-year-old daughter, Maria Fernanda Tlapanco Uribe, went missing nine months ago. "But really, will it be applicable to us, and not just to whoever they want? The laws aren't for us. They are for the 'big' people."
The law, officially called the General Law of Victims, is the joint work of academics, advocates, and victims themselves. Proposed and promoted by the Movement for Peace with Justice and Dignity – which is led by the poet Javier Sicilia, whose son, Juan Francisco, was killed in March 2011 – the law received nearly unanimous support in Congress last year before hitting a wall with former President Felipe Calderón.
---