Colombia: Violence flares in lead-up to new round of FARC peace talks
Recent kidnappings and intensified fighting have increased public skepticism about the Colombian government and FARC rebel peace talks. Today marks a new round of negotiations in Havana.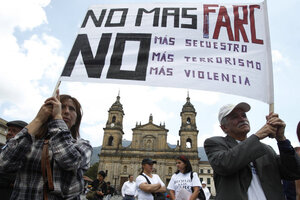 Fernando Vergara/AP
Colombian government and rebel negotiators begin a new round of peace talks today, even as hostilities between the two sides intensify and test the patience of war-weary Colombians. But the fact that negotiations have withstood the strain is a promising sign of the strength of the process, analysts say.
Tensions rose at the peace talks last month – which are being held in Havana between the Colombian government and rebels of the Revolutionary Armed Forces of Colombia (FARC) – when the guerrillas seized two policemen and a soldier following the lifting of a unilateral cease-fire Jan. 20. The policemen were released on Friday and the soldier on Saturday, after being held for several weeks.
When leaving Bogotá for Havana yesterday, the government's top negotiator, Humberto de la Calle, said he recognized "the release of the policemen and the soldier by the FARC," but repeated that "kidnapping is an unacceptable crime."
However, the release did not signify a new wave of calm in Colombia. While the policemen were being released from captivity in southwestern Colombia, the FARC ambushed an army unit just 20 miles from the capital, Bogotá, killing three soldiers and wounding another three. That was followed Saturday by a predawn attack on a police station in the town of Puerto Asis, Putumayo, near the border with Ecuador, which left the police station in ruins and damaged more than two dozen homes. Government troops have also struck out against the rebels, killing the leader of the FARC's Fifth Front and five others when they stormed a guerrilla camp Jan. 31.
---