Guatemalan who helped build genocide case against ex-dictator was survivor, too
Legal advisor Edwin Canil helped find witnesses to testify in the landmark case against former dictator Ríos Montt. Canil escaped a massacre during Ríos Montt's reign.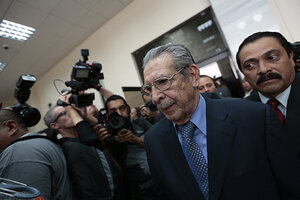 Jorge Dan Lopez/Reuters
An easy smile spreads over lawyer Edwin Canil's face when he talks about the satisfaction of helping build the genocide and war crimes case against former Guatemalan strongman Efraín Ríos Montt over the past decade. But Mr. Canil's eyes water just as quickly when he remembers witnessing the massacre of his own Mayan family at the hands of Guatemalan troops when he was just six years old.
Canil, a legal advisor with the Human Rights Legal Action Center (CALDH), is part of a team that helped find witnesses to testify in the landmark case against Mr. Ríos Montt, who ruled Guatemala in 1982 and 1983. That period has been called the most brutal in the country's 36-year war, which ended in 1996.
But Thursday, just as the trial appeared to be coming to a close after a month of often wrenching testimony from survivors of brutal massacres, country experts, and former military officials, a judge pronounced the proceedings null and void due to procedural concerns. However, prosecutors challenged the judge's ruling and asked the Constitutional court to rule on the matter.
"It's blow to humanity and a blow to the victims," says Canil, referring not just to the specific victims named in the case, but to all those who suffered atrocities at the hands of security forces, including himself.
'What about us?'
Of the 200,000 estimated killed during Guatemala's decades-long civil war, the majority were indigenous Guatemalans. The case brought against Ríos Montt is focused on just one of the many indigenous communities believed to have been wiped out in the scorched earth campaign during his rule. This case focuses on the Ixil ethnic group, of which at least 1,771 were executed or disappeared during his 17-month reign.
Human rights lawyers seeking justice for crimes during the war chose to focus on the Ixil community case, Canil says, because it was the best documented and had all the hallmarks of genocide.
---