Venezuela's Maduro victory upheld in audit - but opposition says fight not over
Venezuela's electoral council confirmed Maduro's presidential victory, but the decision will do little to ease the political crisis. The opposition says it will bring fraud charges before international courts.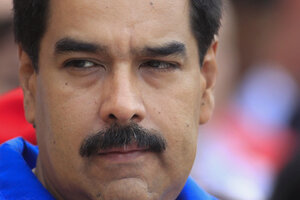 Jorge Silva/REUTERS
After nearly two tumultuous months, Venezuela's electoral council officially ratified Nicolás Maduro's presidential victory yesterday. In announcing the results of an audit of April's razor thin election results, council head Tibisay Lucena said the vote "accurately reflects the will of the [Venezuelan] people."
But the decision will do little to quell the political crisis here as the country's opposition now says it's set to take its case before international courts.
"We first want to exhaust all local, institutional means," says Gerardo Blyde, a member of the Democratic Unity Table (MUD), the political coalition contesting the results. "We're waiting for a response to our complaints before going to bodies such as the Organization of American States (OAS)."
Claiming Mr. Maduro's victory was fraught with fraud, Venezuela's political opposition lodged complaints before the Supreme Court last month, demanding a new vote. Calls for international action could help to bolster MUD's efforts at home; however, analysts say no international body is likely to overturn April's election results.
While "there's a lot of luster" behind recommendations and rulings that come from international bodies such as the Inter-American Commission on Human Rights or the United Nations's Human Rights Committee, "there are no immediate consequences," says Robert Sloane, a professor of international law at Boston University Law School.
Mr. Sloane adds that while decisions can help garner international support; in terms of authority, "ultimately, it's more important what neighboring countries think."
'Incomplete' audit
The opposition has cried foul since Election Day, when candidate Henrique Capriles lost by less than two percentage points. His supporters say voter irregularities – such as intimidation and identity fraud – occurred in over 5,000 polling stations and paved the way for Maduro's Victory.

Despite the complaints, South American leaders were quick to congratulate Hugo Chávez's successor, unanimously recognizing Maduro as president. But the Union of South American Nations (UNASUR) pressured the Venezuelan government to launch an election audit in an effort to settle its domestic strife.
---