Guatemala massacre points to influence of Mexican drug gang
(Read article summary)
Guatemala has declared a state of emergency after the murder of 27 people in the northern part of the country. The Zetas of Mexico are accused of the worst massacre since the end of the country's civil war.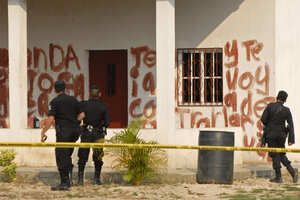 Nuestro Diario/AP
A massacre in northern Guatemala, which has left at least 27 people dead, is another reminder of the growing influence exerted by powerful Mexican drug gang, the Zetas, in Central America.
The Zetas may have first entered Guatemala at the invitation of two drug bosses, Otoniel Turcios and Hearst Walter Overdick. But instead of partnering with local Guatemalan smugglers, the Mexicans became intent on displacing them.
The Zetas cemented their presence in Guatemala in 2008, when they ambushed and killed local crimelord Juan Jose Leon. Dislodging the Leon clan gave the Zetas power over key trafficking routes in the northern departments of Zacapa, Alta Verapaz, and Peten. It was in the latter that the recent massacre took place. In Peten, the government has now declared a "state of siege" similar to the security surge that failed to drive Zetas from Alta Verapaz at the end of last year.
---