Arizona plans fence to stop immigration from Mexico - if Americans will pay for it
(Read article summary)
A new Arizona law green-lights a fence to stop illegal immigration across the state's southern border. But with state coffers empty, lawmakers are hoping that Americans will donate their own money and supplies to the fence's construction.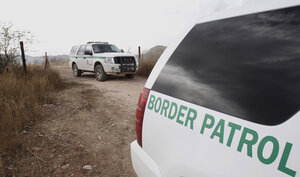 Ross D. Franklin/AP
Arizona was the first state to enact a tough anti-illegal immigration law last year. Now, it wants to be the first to build its own fence along the Mexico border.
A law that allows for construction of the fence goes into effect July 20. The state now needs money – and Arizona Sen. Steve Smith (R) is counting on the generosity of Americans to make the project come to fruition.
"Unfortunately, the state is broke and quite frankly we can't take on this massive project by ourselves," says the senator who sponsored the legislation.
His initial goal is to raise $50 million in donations. "That would be a good, healthy start."
If the federal government won't finish its fence along Arizona's roughly 370 miles of border then the state will, the Republican says. He and his allies are still trying to figure out the cost of the fence and what it might look like.
The senator's goal is to build a contiguous, solid fence "and have the entire border completely and properly secured."
Federal estimates put the cost of building a mile of solid border fence at $3 million but Smith says the state will rely on inmate labor and donated supplies to keep costs down.
---