Mexico's political parties pledge to 'guard' candidates from corruption
(Read article summary)
Ahead of elections in the state of Michoacan, candidates are trying to present themselves as cleaner than their rivals – a possible bellwether of how corruption will figure as an issue in the 2012 presidential elections.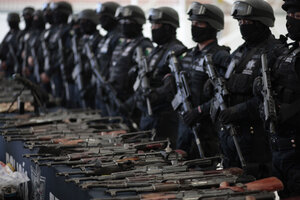 Jorge Dan Lopez
Elections in the state of Michoacan, scheduled for November, are particularly important for Mexico's three main political parties and may serve as a weathervane for the presidential elections in 2012. Traditionally a stronghold of the Party of the Democratic Revolution (PRD), the state has been rocked by a series of high-profile corruption cases in recent years.
Concern about the infiltration of organized crime in politics has risen so high that the non-partisan Michoacan Development Foundation called on the country's three biggest parties to come together and field a joint candidate for governor of the state.
On May 26, the chairmen of the PRD, the Institutional Revolutionary Party (PRI) and National Action Party (PAN) met to discuss the idea of a shared nominee. Although the PAN and PRI leadership are open to the idea, the PRD head rejected the scheme on ideological grounds, reported Vanguardia. Because the state is a major source of PRD votes, it is likely that the party would see the measure as a threat to its support base.
---