Why Peruvian democracy will survive Sunday's election
(Read article summary)
Both Humala and Fujimori are polarizing figures with many detractors, which could translate into widespread blank ballots Sunday. But democracy isn't just about presidents and presidential elections.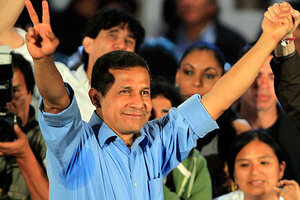 Pilar Olivares/Reuters
Like many observers and voters, I have serious concerns about both candidates in Peru's election this Sunday. Both have committed serious errors in the past, both have or had ties to people and groups that are a major political liability, and both have proclaimed ideologies and political positions (though now moderated during this second round of the election) that are a concern.
I'm concerned about both, but not so concerned about either one that I'd be convinced to support the other. It's for that reason I wouldn't be surprised to see a pattern of blank or spoiled ballots appear during the vote count in Peru, one that drives both candidates beneath 50 percent of the total vote. There will also be a lot of people describing their vote for the "least bad" or "lesser of two evils."
That said, I think many observers of this election have it wrong when they say that a Ollanta Humala or Keiko Fujimori victory, as compared to the other, would be automatically detrimental to Peruvian democracy.
Democracy isn't just about presidents and presidential elections. Peru needs a Congress that can check the executive branch, an independent judiciary and prosecutors who can go after corruption and human rights abuses, separation of powers among the branches, a free press and robust civil society to oversee the whole system, and a citizen population that is engaged and makes its voice heard.
---