Mexico peace tour: How the drug war changed once-calm Cuernavaca
(Read article summary)
Renowned poet Javier Sicilia has begun a citizen's protest against Mexico's war against drugs that will visit flashpoints across the country. Our correspondent is in the caravan, talking to residents along the way.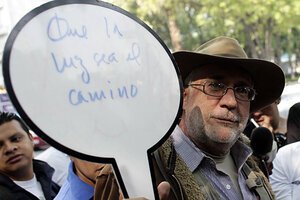 Henry Romero/Reuters
On a regular weekday La Comuna café in Cuernavaca's old town is full of journalists discussing the news of the day while sipping cup after cup of organic coffee.
La Comuna belongs to a cooperative of human rights activists and has become the gathering place of Cuernavaca's political left.
The city, traditionally home to poets and artists, used to be a tranquil weekend destination for Mexico City's middle class elites, as the capital city is only one hour away.
But since 2006, when President Felipe Calderón came to power and declared a war on drug traffickers, it, like so many other cities across the country, has been caught in the throes of violence. Murders and disappearances have spiked, giving journalists an extra reason to sip coffee at this centrally-located cafe.
"We help each other out," says José Martínez Cruz, the café's friendly manager and head of the Independent Commission for Human Rights in Morelos (state). "We give them information and they spread the word."
This state was once a middle-class paradise, says Mr. Martínez, but now impunity and violence reign. According to data collected by his organization, 80 extra-judicial killings took place last year, while 3,000 cases of disappearances were recorded in the past six years in the state alone.
As drug traffickers battling each other have moved into this territory, panic has ensued. In April 2010, an e-mail was widely circulated across the city, imposing a curfew on citizens. The e-mail was allegedly signed by one of the city's drug cartels.
Cuernavaca has not garnered worldwide notoriety as have other Mexican cities, such as Ciudad Juarez, one of the world's deadliest.
---