Five points on the victory of Ollanta Humala in Peru
(Read article summary)
Mr. Humala narrowly defeated Keiko Fujimori in Sunday's presidential race. Both candidates were dogged by their pasts, but here are five factors that could influence his future administration.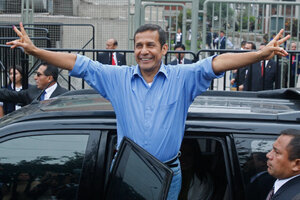 Karel Navarro
The least bad. As with 2006, many voters looked for the "least bad" candidate, but unlike 2006, they decided Humala was the lesser of the two evils this time. It's a testament to the Fujimori legacy that so few voters were willing to give his daughter a chance. It's also vindication for Mario Vargas Llosa, who is having a pretty good year, as his early endorsement of Humala in the second round was likely a key tipping point in this election.
Outside the capital. Humala's strength comes from outside the capital, where the last two presidents have been weak. The expectations for him outside the capital are big, and he will have a number of early challenges on his plate including ongoing protests in Puno and questions of development rights and taxes. Whatever you think of Humala, it's fair to say that Peru needed a president who is less Lima-centric and now they have it. The question is whether he is able to use his political capital from that base of support to resolve some of the country's tough issues, or if he ends up losing his political base over those issues.
Inside the capital. Of course, the opposite is true, too. Humala's big weakness comes inside the capital, where he won only about 40 percent of the vote and much of that was reluctant support. Lack of support in capital cities is a key indicator of instability. The media attacks and whisper campaigns are not likely to stop now that he is president. There is plenty of Lima intrigue for Humala to navigate.
---
Follow Stories Like This
Get the Monitor stories you care about delivered to your inbox.