Mexico peace tour: In Calderón's Michoacán, drug groups still in control
(Read article summary)
Javier Sicilia's caravan stops in Morelia, capital of the state of Michoacán, where Mexican President Felipe Calderón launched his 'war on drugs.' Our correspondent is in the caravan, talking to residents along the way.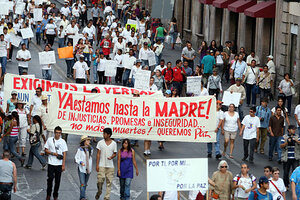 Leovigildo Gonzalez/Reuters
As the Peace Caravan with Justice and Dignity pulls over in Morelia over the weekend, the city's colonial center is lit by a beautiful red sunset.
People are in the streets enjoying ice cream by the city's main square, and some stop to take pictures next to girls dressed up in historical costumes.
The caravan, led by poet Javier Sicilia, is crossing Mexico on its way north to Ciudad Juarez, passing through the cities along the way that have been most affected by drug violence.
Given the festive atmosphere in Morelia, in the state of Michoacán, it is hard to imagine that only three years ago, grenades exploded in the middle of a crowd just next to the city's stunning baroque cathedral. The attack, which was attributed to Los Zetas drug cartel, left eight dead and more than 100 injured.
Michoacán has had a history as a strategic narco state since the 1980s, when it was a key marijuana-growing area. It later became a production center for methamphetamine. Drug traffickers have long controlled swaths of the state, and most recently la Familia Michoacana, a group that emerged to protect citizens but quickly turned into a drug gang in its own right, has ruled the land.
---