Scandal, inflation, and a murder suspect freed: a tough week for Brazil's president
(Read article summary)
Dilma Rousseff's chief of staff resigned over questions about his personal wealth, and now Italy is furious after Brazil's supreme court released a jailed Italian murder suspect and fugitive.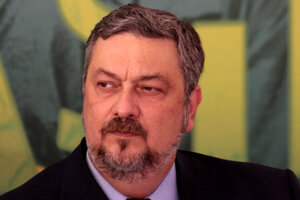 Eraldo Peres
It's been a rough week for President Dilma Rousseff. First, her embattled chief of staff quit in the midst of a corruption scandal, after she'd failed to take action and called in former president Luiz Inacio Lula da Silva to try to contain the political crisis. Antonio Palocci was one of President Dilma's most trusted advisors, although it wasn't the first time he was accused of illicit activities; in 2006, he resigned as Mr. Lula's finance minister after being involved in the massive Mensalão corruption scandal, and he was also accused of corruption while he was mayor of Riberão Preto. Dilma's response was seen by some as slow and ineffective, and Lula's involvement was seen as a last-ditch attempt due to her own inability to handle the problem. Upon Mr. Palocci's departure, Dilma praised her outgoing chief of staff and confessed she was sad he was leaving.
Dilma chose a relatively unknown newcomer, Gleisi Hoffman, a senator from Paraná, to replace Palocci. Palocci was critical to Dilma's success since he was her power broker in the Lula style, while she could attend to the nitty gritty details of her government, as her style is much more bureaucratic and detail-oriented than Lula's. Now, it's up to Ms. Hoffman to prove she can take on the same role and effectively manage the complex array of relationships from the Palácio do Planalto. The media was quick to jump on the new advisor; she supports the Forest Code as it was passed by the House of Representatives, whereas Dilma wants to veto amnesty for illegal loggers. Political analysts say Dilma has to get it right quickly to reestablish order and legitimacy, and she will have to prove that she can step outside her comfort zone to deal with future conflicts more aggressively.
---