Key worry for Chile as volcano ash drifts: soccer
(Read article summary)
The Copa America, which brings together Latin America's top soccer teams once every four years, is set to start July 1. The volcano ash has already prompted hundreds of flights to be canceled.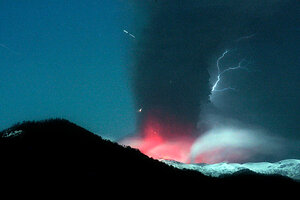 Alvaro Vidal/AP
The Caulle Cordon in the Andes mountains is normally a quiet region of Chile dotted with hot springs, such as those featured at the $500-a-night Puyehue resort. Since June 4, however, the area has seen a roaring, nearly perpetual eruption spewing the tiny rock fragments called volcanic ash.
Hundreds of flights to and from Australia, New Zealand, and South American countries have been canceled and tens of thousands of passengers stranded amid concerns about flying through volcanic ash.
Airport closures have already caused Peruvian President-elect Ollanta Humala to delay a visit to Argentina. UN Secretary General Ban Ki-Moon visited Uruguay by landing 400 miles away in northern Argentina and taking a bus and river ferry.
Chile itself has been only mildly affected so far. Airports were only closed briefly in the Chilean cities closest to the eruption and some ranchers near the eruption have already been allowed to return to their animals. About 3,500 people remain in shelters.
But that has started to change in recent days, as the volcano begins to affect Chile more directly.
The ash cloud is circumnavigating the globe and is predicted to drop debris on Patagonia starting on Saturday. Ash may fall as far north as Concepcion, which is still recovering from last year's 8.8-magnitude earthquake and tsunami. The country's aeronautic authorities are keeping an eye on the situation.
---