La Familia drug cartel defeated, says Mexico
(Read article summary)
La Familia leader, Jose de Jesus Mendez Vargas, has been arrested and Mexican authorities contend that the group's reign in the state of Michoacán has come to an end.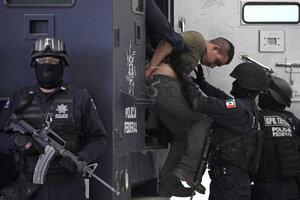 Miguel Tovar/AP
Mexican President Felipe Calderón can declare a decisive victory in his country's brutal war on drugs.
Federal authorities have arrested the leader of La Familia, the drug trafficking organization that espouses religious ideals, but gained worldwide notoriety when it tossed five human heads onto a dance floor in Michoacán state four years ago. Since then, La Familia has made money and wielded influence through not just drug running but kidnapping, extortion, intimidation, and murder.
Jose de Jesus Mendez Vargas, also known as El Chango, or "The Monkey," was arrested in the state of Aguascalientes, the government announced Tuesday.
"With this arrest, what remained of the structure of this criminal organization has been destroyed," security spokesman Alejandro Poire said at a news conference.
His arrest follows the death of the group's founder, Nazario Moreno Gonzalez, in December.
---