Where is Hugo Chavez?
(Read article summary)
Venezuelan President Hugo Chavez has been recovering from an operation in Cuba, but his absence is reminiscent of Fidel Castro's illness in 2006 that eventually caused him to step down.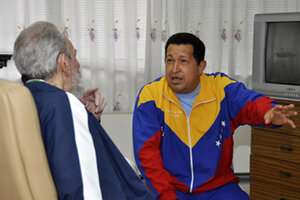 Reuters
While most people are talking about President Chavez's absence since his operation in Cuba on June 10, the problems began way before that. This blog first noted Mr. Chavez' absence and more suspiciously, his silence, on May 29.
But the whole story really started on May 9, when Chavez called TV Network VTV and said he had to cancel his trip to Brazil, Cuba, and Ecuador. Chavez said at the time that that he had an inflamed knee, that he had gone running that day and it got worse and that he had to cancel the trip. He did not appear on the media to make the announcement.
Two days later, on May 12, via his Twitter account @chavezcandanga, Chavez said that he had a problem with his senovial fluid and that the doctors were recommending an astroscopic procedure. For the next two weeks, mostly via Twitter, Chavez reported improvements, said he was treating his knee with a "magical herb" Evo Morales gave him, that it was going to be a very slow recovery for his taste, but it was not until May 22 that he made a public appearance, saying that his knee was still in bad shape. During this time the US announced the sanctions against the state oil company PDVSA and Chavez said nothing publicly about them.
---