ELN rebel group makes a comeback in Colombia
(Read article summary)
Colombia's ELN rebel group, often forgotten, is on the rise thanks to a belated involvement in the drug trade and alliances with both the FARC and new narco-paramilitary groups.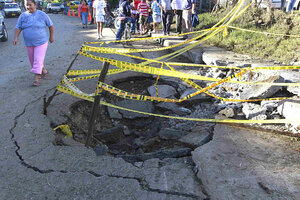 Jaime Saldarriaga/Reuters
The evidence for this resurgence has come in flashes.
On June 15, police in Popayan, the capital of the violence-struck province of Cauca, stopped a Mazda 323 at a routine checkpoint and found the car was filled with explosives, El Colombiano newspaper reported. The driver admitted he was part of the National Liberation Army (Ejercito de Liberacion Nacional - ELN), but the police were unable to adequately clear the area around the car bomb. It exploded, killing one person and injuring another 16. Authorities stated that the bomb's target was the center of Popayan. Eight days later, in the Norte de Santander province along the Venezuelan border, ELN rebels clashed with the army, leaving three soldiers and four guerrillas dead.
In the early 1990s, the ELN reached its apex with a force close to 8,000 rebel soldiers and at least three times as many logistical and political supporters. After a steep and rapid decline in the late 1990s, the ELN became largely irrelevant. But a sudden rise in estimated rebel troop levels, as well as a spike in military actions related to their new-found financial sources, is starting to turn this perception around.
---