Guatemala's divorced first lady barred from running for president
(Read article summary)
Critics said Sandra Torres' divorce from President Colom was a scam to dodge a ban on relatives running for office. Her party promises to appeal, but the candidates' list is due July 11.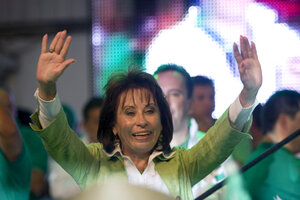 Moises Castillo/AP/File
On Wednesday, Guatemalan electoral authorities rejected Sandra Torres's presidential candidacy on the grounds of "supposed legal fraud." The resolution from the Supreme Electoral Tribunal (TSE) said that her divorce from President Alvaro Colom did not invalidate Article 186 barring relatives of previous presidents from becoming president.
The resolution also claimed that her candidacy was denied based on the grounds of legal fraud (Article 4 of the Judiciary Act) because the divorce was sought solely to get around the constitutional prohibition of Article 186 (Prensa Libre). The TSE must resolve the appeal of Ms. Torres and her party, the National Unity of Hope (UNE), within the next 72 hours and then the case will most likely move to the Constitutional Court for a final decision.
As I said in April, there didn't really seem to be any good reason why the country's courts would not grant the Coloms their divorce. However, having the electoral authorities accept the divorce and allow her to run for the presidency was going to be another matter.
Then there's the question of what to do if Torres' candidacy is rejected again by the TSE and then finally by the Constitutional Court. Congressman Christian Boussinot (UNE) acknowledged that Mr. Colom's ruling National Unity of Hope party lacked a viable candidate to stand in the September 11 elections. "We do not have a Plan B," he said, noting the party's executive committee planned to appeal the ruling. (AFP)
---