Rio de Janeiro's new hazard: exploding manholes
(Read article summary)
More than 60 manhole covers have been blown into the skies since last year, injuring dozens of people. Some see it as a worrying indicator of Rio's preparations for the 2014 World Cup and 2016 Olympics.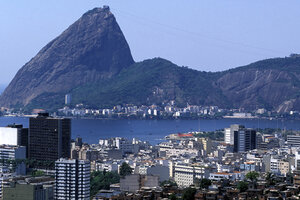 Newscom
Another day in Rio de Janeiro. Another manhole cover exploding into the sky, flattening cars, breaking windows, sending people scampering for safety.
Yes, while Rio de Janeiro is a city that instinctively draws people to gaze into the distance at the beach, the statue of Christ on Corcovado hill, and the curves of Sugarloaf mountain, it is also now a city where people glance to the ground, suspiciously eyeing those heavy iron manhole covers, wondering if that one there in front of them might be the next one to blow.
On Monday, another cover exploded into the air in Botafogo, injuring two people, smashing a nearby window, and damaging a parked motorcycle.
It was the 10th manhole cover to blow this month. More than 60 have now exploded into the Rio skies since last year.
Dozens of people have been injured, including two American tourists who were hit in Copacabana, and thousands of dollars of damage has been done by the flying manhole covers, all of which are owned by Light, Rio's electricity company.
The explosions are mostly caused by sparks from old transformers inside underground junction boxes igniting gasses, Light's president Jerson Kelman said.
"We are renovating the underground system, which is more than 60 years old and has visible signs of stress and aging," Mr. Kelman says. "We started with the boxes where there are transformers. There's never been this kind of investment in reforming the underground system, we have 88 million reais [around $56 million]. Cash is there, but we can not fix everything in a month."
---