Is Colombia's FARC rebounding?
(Read article summary)
A Colombian think-tank argues that the guerrilla group has retaken the initiative in key regions, and that security forces have thus far failed to adapt to the conflict's changing conditions.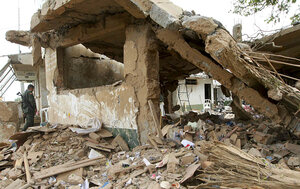 Jaime Saldarriaga/Reuters
Corporacion Nuevo Arco Iris, a Bogota-based think-tank that focuses on national security issues, released a 17-page report on Sunday which highlights several trends previously observed by InSight Crime. Most notable among these is that the Revolutionary Armed Forces of Colombia (Fuerzas Armadas Revolucionarias de Colombia - FARC) are increasingly resurgent in the country's southwest, employing tactics like sniper fire and the heavy laying of landmines to harass the army and police.
InSight Crime considers there are four key points to be taken from the report:
1) FARC military actions have been on the rise since 2009, and there are no signs of the guerrillas relenting.
Nuevo Arco Iris counted 1,115 FARC actions in the first half of 2011, a 10 percent increase on the same period last year, according to data kept by the think-tank. That's up from 855 actions in the first half of 2009 and 1,012 during the same time period in 2010. If the FARC continue at the same pace, 2011 could finish with a total of 2,200 guerrilla attacks, which, by Nuevo Arco Iris' definition, includes the use of minefields, snipers, ambushes, infrastructure attacks, "combat" (defined as firefights that last more than two hours), and "harassment" (hit-and-run attacks, often involving grenades, that last less than three hours).
---