Brazil passes its first organizational hurdle ahead of 2014 World Cup
(Read article summary)
Protesters gathered outside the 2014 World Cup qualifying draw this weekend in Rio de Janeiro to demand that the soccer tournament stay free of corruption. They promised to keep up pressure as the event nears.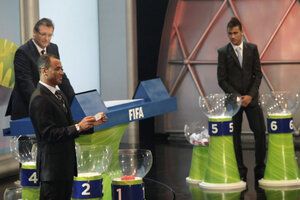 Ricardo Moraes/Reuters
Soccer's governing body FIFA has had its share of troubles over the past few months as top officials became embroiled in a series of corruption scandals.
It almost faced another unwanted headline Saturday when high winds in Rio de Janeiro threatened to blow the roof off the temporary venue hosting the draw for the qualifying rounds of the next World Cup that will be held in Brazil in 2014.
While the roof held fast, one pairing almost brought down the house. At the end of the two-hour spectacular, defending World Cup champions Spain were drawn to face powerhouse European neighbor France in a group containing Belarus, Georgia, and Finland. Other enticing draws include Japan versus North Korea, Mexico going up against Costa Rica, and the three former Yugoslavian republics of Croatia, Serbia, and Macedonia being drawn in the same group in Europe.
---