The other side of Mexico's drug war successes
(Read article summary)
The government hailed a long list of recent arrests of drug lords and other criminals, but such events always seem to be paired with a setback or other negative development in the drug war.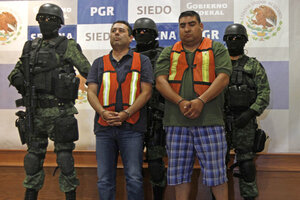 Marco Ugarte/AP
Last Friday it was a major drug lord in Ciudad Juárez. Over the weekend came the capture of the alleged head of meth production of a group terrorizing the state of Michoacan. And on Tuesday Mexican authorities said they caught a major figure of a splinter group in Acapulco.
But each piece of positive news the government showcases seems inevitably to come paired with a setback or other negative development in a battle against organized crime that has already seen some 40,000 killed since Mexican President Felipe Calderon took office in late 2006.
The most recent batch of arrests were heralded at a press conference earlier this week, during which Mexico's national security spokesman Alejandro Poire listed off names of captured suspects and touted the government's success in battling crime. "Important criminal operators have fallen one after the other, with the growing capacity of federal forces," he said.
But as the arrests were announced, pollsters in the state of Michoacan went missing. They have since been freed, and details of what actually happened are murky. But most believe one of the two major crime groups, La Familia and the Knights Templar, were behind their abductions. Now many worry that organized crime could hamper efforts to gauge public opinion and hence influence upcoming state elections scheduled for November.
Targeting pollsters would be a new intimidation tactic, but would not be surprising. In previous elections, candidates have been targets: the highest profile case was the assassination last year of Rodolfo Torre, who was running for governor of Tamaulipas. Sitting candidates, especially at the mayoral level, have also been increasingly counted among the death toll in Mexico.
---