Brazilians' 'fanatical' travel to US helps drive Brazil's economic boom
(Read article summary)
Brazil's new middle class, by spending record numbers on consumer goods and services like travel, is attracting investment and international business to the country, fueling its growth.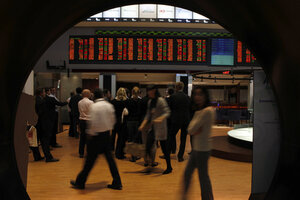 Paulo Whitaker/Reuters
One of the most impressive results of Brazil's economic rise has been the explosion of the middle class, and the expansion of what is called the C Class. Beyond the stock market, the oil fields, and the upcoming international events, the new middle class is what really has helped fuel growth and has attracted so much investment and international business.
In Brazil, socioeconomic level are divided by letters: A and B (upper income), C (middle income), D (lower middle income), and E (low income). This week, a new government study from the Strategic Affairs Secretariat (SAE) was released that provide insight into the new middle class, and provides an interesting look at Brazil's biggest consumers.
The middle class now encompasses 52 percent of the Brazilian population, with around 95 million people. A new middle class family earns between 1,000 reais and 4,000 reais per month, or $615 and $2,461. The average monthly salary for a middle class family is 2,295 reais, around $1,412, which amounts to about $18,356 a year (including the "13th" bonus salary). Most are urban dwellers (89 percent live in cities) and largely concentrated in Brazil's wealthier regions (the South, Southeast, and Central-West). The majority are adults (63 percent are over 25), and slightly more than half are female and white. Amongst those in the C Class, six out of ten are employed. Plus, the rise of women in the workplace and higher education levels have helped propel families into the C class.
---