In fight with Shining Path, Peru's President Humala takes a page from Colombia
(Read article summary)
Peru's new president has vowed to take a hard line against the country's Shining Path guerrillas, and appears to have modeled his strategy on Colombia's counterinsurgency successes.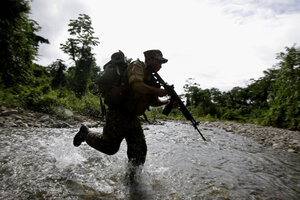 Martin Mejia/AP
Within days of taking office, Peru's President Ollanta Humala called on the country's armed forces to step up efforts against the Shining Path (Sendero Luminoso). In an Aug. 3 speech to commanders of the Peruvian Armed Forces, Army, Navy, Air Force, and National Police, the president called for a radical shift in strategy in the fight against the rebel group. He singled out the embattled Apruimac and Ene Valley region (VRAE), which is the major hotspot of rebel activity in Peru.
President Humala, himself a former army major, had stern words for the military leadership. "Security starts with the results. The country will feel safe if its armed forces manage to defeat the enemy. But what we see now is that the enemy is in the same place as always, striking any time it wants. That must end," Mr. Humala told the commanders. He then said he would provide military forces in the VRAE region with the resources they needed to finally rout the guerrillas, but that this would be conditional on results.
It appears that Humala has also been encouraging the military to reshape its counterinsurgency strategy. As a La Republica report reveals, the Military Intelligence Wing (Arma de Inteligencia del Ejercito) of the Peruvian army has studied the recent success of Colombia in beating back the Revolutionary Armed Forces of Colombia (Fuerzas Armadas Revolucionarias de Colombia - FARC), specifically their deadly strikes against rebel leaders like Luis Edgar Devia Silva and Víctor Julio Suarez Rojas, better known as "Raul Reyes" and "Mono Jojoy." Intelligence work was a key factor in both of these assassinations, and military sources told the newspaper that they are restructuring their intelligence organs to focus on taking out the Shining Path's leaders in the VRAE.
---