Midas touch? Hugo Chávez plans to use gold to end 'dictatorship' of US dollar
(Read article summary)
The Venezuelan president announced plans to nationalize his country's gold industry and move Venezuela's reserves out of Western banks and into the banks of more friendly nations.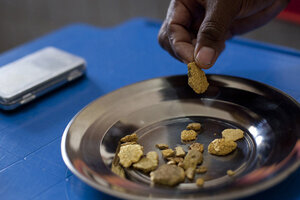 Carlos Garcia Rawlins/Reuters/File
Venezuelan President Hugo Chávez appears to be becoming more vociferous by the day as he announces plans to nationalize the country's gold industry and reorganize foreign reserves, just days after returning from a second round of chemotherapy in Cuba.
The socialist leader has finally announced plans to nationalize Venezuela's gold industry after years of talk on the subject, as well as end the "dictatorship" of the US dollar by transferring foreign reserves to more friendly nations.
Under Mr. Chávez's plans, Venezuela is to transfer more than $6 billion of reserves from banks in the United Kingdom and Switzerland, among others, to countries including China, Russia, and Brazil.
Around 211 tons of the 365 tons of Venezuelan gold reserves held at foreign – banks including the Bank of England, Barclays, and the Bank of Nova Scotia – are to be repatriated. "We've held 99 tons of gold at the Bank of England since 1980. I agree with bringing that home," Chávez said on state television. "It's a healthy decision."
---