Drug tunnel found in Arizona, but it's no fancy, million-dollar underground corridor
(Read article summary)
In the era of narco-submarines and tanks, the tried and true tunnel remains popular, especially along Arizona's Mexican border. The latest reminds Douglas locals of the legendary one from 1990.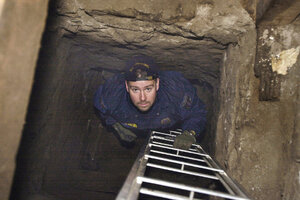 Benjie Sanders/The Arizona Daily Star/AP
The discovery this week of a drug tunnel inside a house in Douglas, in southeastern Arizona, rekindles memories of the legendary one area residents still talk about: a 270-foot elaborate passageway with lighting and a hydraulic system that authorities valued at more than $1 million.
That was back in 1990, around the time tunnels increasingly emerged as part of the drug-trafficking route along the Southwestern border. The sophisticated Douglas tunnel was used to haul cocaine from a luxury home in Mexico to a warehouse in the border town just a couple blocks from the rental home where the latest clandestine excavation has now been abruptly halted.
The one discovered late Tuesday has all the makings of a drug tunnel in-progress, according to Vincent Picard, a spokesman for US Immigration and Customs Enforcement. It is still unclear how far the tunnel extends.
"The tunnel was collapsed and yet there was recent activity that showed that they were trying to dig it back out," he says.
No diggers or drugs were in sight when authorities arrived at the house to investigate a citizen's report.
---