Jamaican drug lord 'Dudus' Coke pleads guilty. Why did his arrest take so long?
(Read article summary)
While Coke's plea wraps up a long pursuit by US and Jamaican authorities, an examination of the efforts to prosecute him implicate several parties – including Jamaican officials and a US law firm.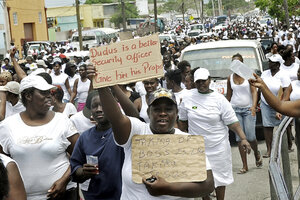 Ian Allen/AP
Drug lord Christopher Michael "Dudus" Coke pleaded guilty to racketeering in US court this week, closing a dark chapter in Jamaica's history. But the efforts to prosecute him warrant more examination, for the list of guilty parties is long, and some wear white collars.
Mr. Coke and his gang, the "Shower Posse," made news in May 2010, when they barricaded themselves into the Tivoli Gardens neighborhood of Kingston, Jamaica, and fought off government attempts to arrest and extradite Coke to the United States. Over 70 died in clashes before Coke turned himself over to authorities the following month.
The Jamaican government had paralyzed the extradition process for months, and there was evidence that Prime Minister Bruce Golding and his Labour Party hired a US legal firm to help Coke fight the request. The party, and more specifically Mr. Golding, depends on votes from Tivoli Gardens to secure power, giving the matter added political weight.
The connections between Coke, a career criminal, and Golding, a career politician, were explored after the extradition by a congressional commission, many of whose members were named by Golding himself.
---