Most Guatemalans unhappy with options in this weekend's presidential election
(Read article summary)
Violence is down compared to the last presidential election, but Guatemalans deserve more than what they have been offered in this campaign of candidates with questionable backgrounds.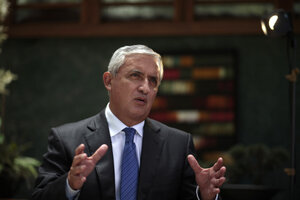 Jorge Dan Lopez/Reuters
I really can't say that the 2011 electoral campaign has been a major step forward for Guatemalan democracy.
In terms of the presidential candidates, front runner Otto Perez Molina of the Patriotic Party is an alleged war criminal from the country's civil war years and a person who retains close ties to hidden powers in the postwar period. I always thought that given what we'd read about Perez, he would have been on the International Commission Against Impunity in Guatemala's (CICIG) radar. Now, there's a good chance that he'll be president.
The candidate person with the second most electoral support, Sandra Torres of the National Unity for Hope (UNE) and Grand National Alliance (GANA) coalition, is constitutionally barred from competing because her relationship with President Alvaro Colom violates Article 186 of the constitution preventing close relatives of the president from running for the presidency. Torres and her family are still rumored to be tied to drug trafficking and money laundering. On Wednesday, a judge opened an investigation into Torres because she urged Guatemalans not to vote in the presidential election after the constitutional court rejected her final appeal.
---