Tensions run high in Rio favelas amid 'pacification'
(Read article summary)
Altercations like this week's fight in Alemão between the army and the local population are expected again as the country adjusts to the irreversible trend of integration.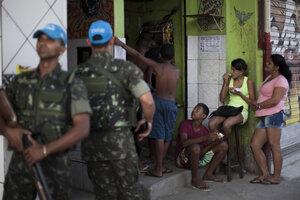 Felipe Dana/AP
Rio de Janeiro has been busily repaving its streets as part of the revitalization in the run-up to all (its upcoming) mega events. Manhole covers (exploding or not) are a challenge for any city. They end up lower than the newly paved street (photo here).
Rough edges such as these are rife in Rio, where violence and unrest have returned after a yearlong hiatus. September 2010 saw a wave of motorist robberies (arrastões) that were followed by a crescendo of car and bus torchings, culminating with the Army's November occupation of Complexo do Alemão and Vila Cruzeiro. Then all was relatively calm – until now.
Yet what's surprising isn't this week's three-night altercation between Complexo do Alemão residents and the Brazilian Army, or the post-baile-funk attack on the local pacification unit in Cidade de Deus – but that it took so long for violence to resurface. Cariocas are famous for their irreverence and noncompliance but many Brazilians bend easily to authority, or at least hide their misdemeanors. Such is the legacy of slavery.
And what's not surprising are the comparisons being made by some cariocas between the forces of public order and the forces of criminal dominion. "At least when the drug traffickers ran things, we knew the rules," favela residents have been heard saying.
---