Honduran security minister steps down, deepening security crisis
(Read article summary)
The departure of Honduran Security Minister Oscar Alvarez, the leading crusader against police corruption in Honduras, is a victory for crooked cops.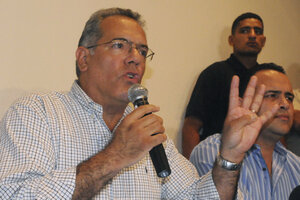 Fernando Antonio/AP
With the departure of Honduran Security Minister Oscar Alvarez, an outspoken foe of police corruption, the country is facing an uphill battle as it grapples with attempts to reform its notorious police force.
In a surprise move, the administration of President Porfirio Lobo announced late Saturday night that it had accepted Mr. Alvarez's resignation. Up until now, he had been seen as one of the president's closest and most influential advisers. While officials are claiming that the resignation was voluntary, Alvarez was joined by Foreign Minister Mario Canahuati as well as several other ministers and deputy ministers, suggesting they were dismissed as part of a major shake-up.
Indeed, on September 9, Mr. Lobo had announced that he would be making changes to his government, due to his "concern" about the country's deepening security crisis. The president said that he planned to involve himself "directly in the subject of security with much more energy and force."
However, the politics behind the move suggest something different entirely. According to La Tribuna, an anonymous source claims that Alvarez's departure was the result of tension between his office and the leadership of the National Police. Allegedly, the top officials in the police force threatened to quit en masse if Alvarez was not forced out of office.
This was likely sparked by Alvarez's repeated attempts to purge the police of corrupt elements, something which he has become known for in recent years. Indeed, in February 2010, Alvarez shared his doubts over the integrity of the police force in person with InSight Crime. According to him, the police are now more thoroughly infiltrated by criminal groups than at any point in history, as evidenced by the fact that there have been several cases of police working for local mafia groups.
---
Follow Stories Like This
Get the Monitor stories you care about delivered to your inbox.