Will US extension of National Guard border presence deter immigration from Mexico?
(Read article summary)
The decision to keep Guard troops along the US-Mexico border until the end of the year comes amid a 40-year low in Border Patrol arrests and a 60 percent drop in Mexican immigration since 2006.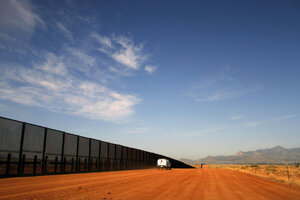 Joshua Lott /Reuters
Although the Obama administration has repeatedly declared the US-Mexico border safer than it's ever been, it has decided that the deployment of 1,200 National Guard troops stationed along the international line will stay on through the end of the year. The troops were previously scheduled to leave on Sept. 30.
It's no surprise the announcement came just before the tenth anniversary of 9/11. The terrorist attack forever changed how Americans view border security and many of the immigrants who come to this country, both legally and illegally.
In the midst of an unprecedented border build-up of manpower and infrastructure over the past decade, Arizona emerged as a leading voice in the crusade linking terrorism, border security, and immigration. A state law aimed at ousting illegal immigrants from the state kept Republican Governor Jan Brewer in office and on the national stage.
Often at odds with the Obama administration, which is challenging the constitutionality of Arizona's tough immigration law, Governor Brewer applauded the administration's decision to extend the stay of the troops. The bulk of them, more than 500, are working in Arizona. The total cost of the additional 90-day deployment will be about $30 million.
---