Is the White House ready for a Cuban deep water drilling disaster?
(Read article summary)
In three months deep water drilling is set to begin in Cuban waters in the Gulf of Mexico, but the US embargo on Cuba could spell catastrophe should a repeat of the Deepwater Horizon spill occur.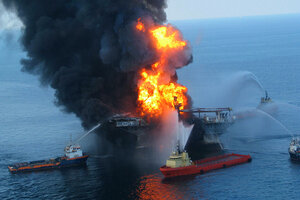 US Coast Guard/Reuters/File
The good news? Cuban energy officials are taking the lessons of the BP oil spill disaster very seriously, according to a group of oil drilling and environmental experts just back from Cuba, including the co-chairman of the Bipartisan National Commission on the BP Deepwater Horizon Oil Spill and Offshore Drilling (also former EPA administrator), the head of the International Association of Drilling Contractors, a former senior executive for Royal Dutch Shell, and a longtime Cuba expert with the Environmental Defense Fund.
The bad news? Less than three months before deep water drilling begins in Cuban waters in the Gulf of Mexico, neither Congress nor the Obama administration has taken the necessary steps to help prevent or respond to a similar disaster that could impact even more US coastline. Granted, it seems a bit far-fetched to imagine the present Congress sending any legislation to the president these days, so the burden of preparedness essentially rests with the administration.
---