Mexico body dump: result of a gang war?
(Read article summary)
Mexican officials identified several of the bodies dumped on a Mexican highway as Zeta gang members. A gang linked to the Sinaloa Cartel claimed responsibility for the murders.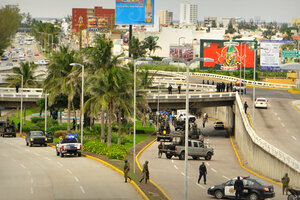 AP
The bodies of 35 alleged Zetas members were dumped beneath an underpass in downtown Veracruz, south Mexico, in the latest sign that the group is taking a hit to its activities on the Gulf coast.
Motorists along the busy avenue of Ruiz Cortine in the Mexican port city of Veracruz encountered a gruesome roadblock on Tuesday afternoon: two abandoned pickup trucks, each carrying more than a dozen dead bodies. According to eyewitness accounts, an number of masked men had stopped traffic along the road around 5:00 p.m., pointing weapons at passersby as they opened up the gates of the truck beds before abandoning the vehicles.
The men also left an ominous "narcomanta," or drug banner, claiming that the victims had been killed for their allegiance to the Zetas:
This will happen to all those Zeta s---- who remain in Veracruz. The beach now has a new owner: G.N. Here lies "El Ferras" and his royal court.
According to state Attorney General Reynaldo Escobar Perez, several of the victims have been identified as possible escapees in a prison breakout that occurred on Monday, in which 32 inmates from three different prisons allegedly managed to overcome their guards and escape. Several of them were captured soon after, but 18 remained at large on Tuesday. The jailbreak was blamed on the Zetas, for whom the activity is something of a specialty. In 2010, the state of Tamaulipas lost more than 350 inmates to jailbreaks, most of which were attributed to the Zetas.
---