Mighty Brazil: an overinflated image?
(Read article summary)
Brazil has performed well, writes guest blogger Greg Michener, but its leaders' swagger reflects an immodesty unmerited for a country as susceptible to the winds of change as Brazil.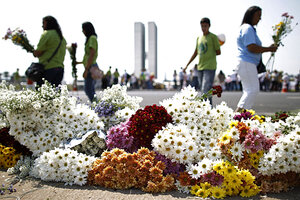 Ueslei Marcelino/Reuters
A couple of weeks ago, Brazilian Finance Minister Guido Mantega puffed out his chest and idly suggested that the BRIC countries might bail out Europe. A few weeks later, President Dilma Rousseff stood before the United Nations Assembly and tossed daggers at economic mismanagement in the US and Europe while at once highlighting Brazil's sure-footedness:
Part of the world has not yet found the balance between appropriate fiscal adjustments and proper and precise fiscal stimuli to demand and growth […] It is noteworthy that it is the president of an emerging country, a country experiencing practically full employment, who speaks here today in such stark terms of this tragedy that assails the developed countries in particular.
While the swagger of Brazil's top policy-makers may be based on the country's good performance and the crush of the US and European debt crises, it reflects an immodesty that is simply unmerited for a country as susceptible to the winds of change and as economically and politically backwards as Brazil.
Is Brazil really that much better off? Inflation and currency volatility
Brazil's vitals are not even as strong as policy-makers might like outsiders to think. Inflation is on the uptick, according to the Estado de São Paulo Newspaper, heading in the direction of 7 percent and putting further pressure on the poor, whose wages are adjusted with greater infrequency than other segments of society. Higher inflation may also signal the need to again raise Brazil's interest rates, once again putting pressure on the poor as well as inviting speculative capital.
---