Hugo Chávez tries to silence health rumors with his usual flair
(Read article summary)
Hugo Chávez assembled reporters to his palace and played ball, after a Miami-based newspaper suggested the spirited Venezuelan President was on his last legs.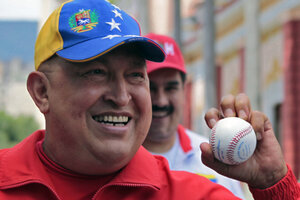 Miraflores Press Office/AP
As rumors circulated all over the Internet that Venezuelan President Hugo Chávez had been rushed to the hospital with kidney failure, the great PR man had the world's press in the palm of his baseball glove at his Miraflores presidential palace.
While his other hand theatrically threw a baseball up and down, President Chávez read out every word of an El Nuevo Herald article that the previous night had suggested he was on his last legs.
"We must stop the speculation," Chávez said, clad in a red tracksuit as he then tossed the ball back and forth with aides. "It is morbid and inhumane."
The indefatigable leader then spoke for more than two hours on the country's border dispute with Guyana, the release of US hostages in Iran – thanks of course to his sway, he reminded – as well as on the bad reporting that had fed the piece that brought the press there in the first place.
It was a highly orchestrated show that will likely play out in coming months, as Chávez's health remains in question and Venezuela contemplates a future without him. Love him or hate him, Chávez has been the face of the country for 12 years and he is seeking to keep it that way as the country heads into presidential elections in October.
---