A shakeup for Rio de Janeiro state police
(Read article summary)
The Rio de Janeiro state police's top officer resigned last week after saying he was responsible for the nomination of the police chief arrested with other officers in the killing of a judge.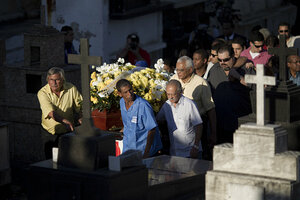 Felipe Dana/AP
There's consensus in Rio de Janeiro that police corruption and criminality must be reduced. What we don't know is if it's possible to achieve this to a significant degree in an environment where politicians tomam posse (take possession [of office]) and then bring in trusted people to occupy cargos de confiança (posts of confidence).
Widespread corruption and scant trust in society at large mean that every deed and every word, especially on the part of public figures, requires the interpretation of a Torah scholar. Even the media, with needs that don't always match those of readers and viewers, cannot be trusted.
Thus we get tweets such as this one, from former State Public Safety Secretary Marcelo Itagiba: "New commander changes everything once again. One dum-dum steps down and another one takes his place. Institutional instability. There's no line of action. Only a changing of the guard." Mr. Itagiba served under Governor Anthony Garotinho, accused of corruption and recently found guilty of illegal media usage for electoral purposes.
Because reading between the lines is a time-consuming process, most people either mistrust all information unless it comes from a close friend or relative – or they turn to conspiracy theory. Like gossip, theories are easy to invent and spread. And a conspiracy theory is occasionally correct.
So it could well be that, as Itagiba and many other observers posit, the new public safety policy is mere window-dressing for Governor $érgio (this is how Itagiba writes his name) Cabral's money-grubbing. After all, his dubious connections, long suspected, came to light just a few months ago.
---
Follow Stories Like This
Get the Monitor stories you care about delivered to your inbox.