Funeral of Chávez foe recalls former Venezuelan leader's clouded legacy
(Read article summary)
Former Venezuelan President Carlos Andrés Pérez will be laid to rest in Caracas today, nine months after he died. He remains a controversial figure.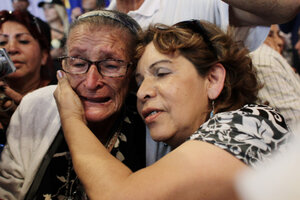 Ariana Cubillos/AP
The funeral in Caracas today of former Venezuelan President Carlos Andrés Pérez – nine months after his death – ends a bitter family dispute over where his burial should take place: the US, where he sought refuge from the presidency of Hugo Chávez, or his homeland.
But it does not resolve his clouded legacy, after having survived two coup attempts, one led by President Chávez himself.
Thousands of people gathered inside and outside Caracas's Chiquinquira church this morning, watching on an erected video screen, where Pérez is being remembered ahead of a motorcade to the cemetery where he will finally be laid to rest alongside other former presidents of this country.
During his first term between 1974 and 1979, Pérez, known as CAP, presided over a Venezuela then known as Venezuela Saudita (Saudi Venezuela) for its oil wealth. Venezuela experienced an economic boom as oil prices shot up from $2 a barrel to $35 a barrel, and Pérez won favor by nationalizing the industry and using windfall profits to build new infrastructure and fund social programs (not unlike what his nemesis, Chávez, is doing today with prices well above $100 a barrel).
---