One of 'Cuban Five' spies to walk free today in Florida
(Read article summary)
But where will Rene Gonzalez, convicted of spying for the Cuban government, go? A Florida judge has ordered he must serve three years of probation in the US, after spending 13 years behind bars.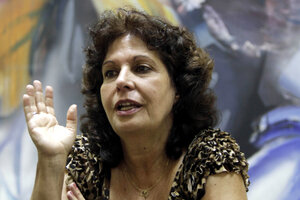 Franklin Reyes/AP
When Rene Gonzalez, one of five Cuban agents reviled by Miami hardliners and celebrated by the Havana government and its supporters, walks out of a Miami prison today after serving 13 years of a 15 year sentence, where will he go and who will be there to greet him? This is a question someone in the Obama administration surely must have considered, because how they answer could cost them – and the Miami Dade Police Department – dearly.
The options seem relatively clear: either he goes home to Cuba and stays there (Mr. Gonzalez, who is a dual citizen, could remain in Cuba if he renounces his US citizenship), or he stays in Miami to serve out his probation. A Miami judge denied his request to serve out his parole in Cuba, but I'm not sure that ends the matter. Surely the administration has other means to bypass Miami and give Gonzalez the boot? It's not hard to imagine the headache those who revile him most will create not just for Gonzalez but for the Miami-Dade police, and even for the administration. And here's a high-ranking member of the US Congress (Rep. Ileana Ros-Lehtinen) who isn't afraid to stir the pot:
---
Follow Stories Like This
Get the Monitor stories you care about delivered to your inbox.