Iran assassination plot: Terrorists join forces with Mexican drug cartels?
(Read article summary)
It's doubtful, experts say, despite reports that Iranian plotters tried to hire members of a Mexican drug cartel to assassinate the Saudi ambassador to the US in Washington.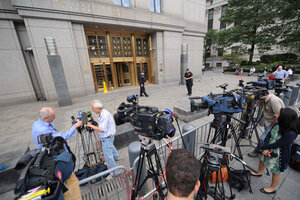 Louis Lanzano/AP
Looking to carry out an assassination or set off a bomb on US soil? Look no farther than Mexico, where murderous drug traffickers abound, ready and willing to take money for brazen acts of violence.
That may be the takeaway for those in the US increasingly wary of the security threat posed by its southern neighbor, after news that the agents tied to Iran sought the help of a Mexican drug trafficking group to carry out a plot to assassinate the Saudi ambassador to the US.
Already, presidential hopeful Gov. Rick Perry (R) of Texas had said he would consider sending troops to Mexico to contain drug violence.
But are Mexican cartels really linking up with terrorists?
Mexicans, fiercely opposed to any type of US military intervention despite its growing violence, say the connection between terrorism and drug traffickers is already being overblown, and this will just add to the fodder.
"For a long time the US security apparatus … has been trying to see if there is any connection between organized crime in Mexico and terrorist organizations," says Alejandro Schtulmann, head of research at the Emerging Markets Political Risk Analysis consulting firm in Mexico City. "Mexican criminal groups have no interest in upsetting the US."
Plot foiled
---
Follow Stories Like This
Get the Monitor stories you care about delivered to your inbox.