Schools shuttered in Acapulco show impact of Mexican drug gangs on civilians
(Read article summary)
Schools in the city shut their doors for weeks after teachers became extortion targets for Mexican drug gangs.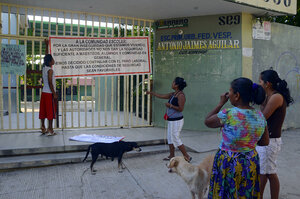 Bernandino Hernandez/AP
The targeting of teachers in the port city of Acapulco is a symptom of the increasing victimization of civilians by Mexico's drug gangs, and could spark a backlash.
The extortion demands against the Acapulco teachers were first made known through a "narcomanta," or banner hung by drug gangs, found in late August. The message demanded that teachers hand over half of all their salaries, and that schools give a list of staff and their current pay scale.
In response to the threat, and the government's perceived inability to protect them, thousands of teachers refused to show up for work, forcing hundreds of schools to close. According to El Universal, some 50,000 students have had their studies interrupted as a result.
After weeks of pleas for help from local officials and growing media attention, the federal government has dispatched more than 100 federal troops to patrol the rougher areas of the city. While authorities claim that 90 percent of the shuttered schools have reopened, a minority remain closed.
This is not the first time teachers have been subject to threats from organized crime. A handful of reports have surfaced over the past couple of years – such as in Monterrey in 2008, or last year in Juarez – of demands that teachers hand over their "aguinaldo," the Christmas bonus (worth one paycheck) that formal employees receive in Mexico. However, the Acapulco threats were more extensive, and have had bigger consequences.
---