Mexicans unite over arrest of alleged leader in Los Zetas cartel
(Read article summary)
Mexico has arrested Carlos Oliva Castillo, also known as 'the frog,' who was the alleged mastermind of a horrific arson attack on a casino that killed 52 people in August.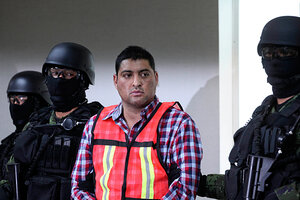 Alexandre Meneghini/AP
Each time a top drug boss is captured or killed, Mexicans debate whether this is good or bad news for the so-called drug war here.
The government heralds such arrests as a clear sign of victory; critics contend it only fractures groups and ultimately makes the game more deadly.
But with the arrest, announced Thursday, of Carlos Oliva Castillo, "The Frog," that debate is likely to be overshadowed by a unifying sense of relief, given the claims made against him.
Mr. Oliva Castillo is an alleged top leader of the Zetas drug group, and more significant, the alleged mastermind of the arson attack that killed 52 people in a casino in August, most of them middle-aged women.
The casino attack, in the northern city of Monterrey, is largely considered to be one of the most horrific acts of violence in Mexico, since Mexican President Felipe Calderon took office in 2006 and announced that federal forces would fight drug traffickers.
"People despise the Zetas because they are very violent. Other organizations, their only business is drugs. Not kidnapping or extortion. If you have to make a choice, if you can say there are 'good criminals,' the Zetas are considered the bad ones," says Javier Oliva Posada, a drug expert at the National Autonomous University of Mexico. "When the criminal organizations attack the civic population, they are lost."
---