Five thoughts about President Kirchner's big win in Argentina
(Read article summary)
Guest blogger James Bosworth breaks down why Cristina Fernandez de Kirchner won Argentina's presidential election, and what the future might hold for her and her country.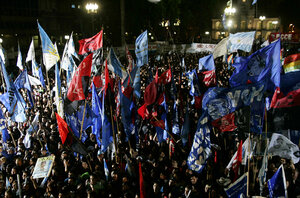 Martin Acosta/Reuters
A big win. President Cristina Fernandez de Kirchner won an impressive reelection in Argentina with over 53 percent of the vote in the first round. She won a majority of the vote in all but three provinces and only lost in one province (San Luis). Her party also won a congressional majority and nine provincial gubernatorial races. She deserves to celebrate.
Economic boom. Mrs. Kirchner won because the average Argentine citizen perceives the economy as doing quite well, better than it was before the Kirchners came to power in 2003. This is a combination of luck (high demand for soya, particularly from China), good policies (conditional cash transfers and welfare for the poor have improved the livelihoods of many in the lower economic classes), populist policies that are still working (price controls), and pushing some macroeconomic problems off until the future (including inflation, federal to state transfers, foreign debt, and currency flight). Whatever the analysis as to why, the economic situation at election time was good for the average voter, which translates to a win.
Divided opposition. The runner-up in this election with 17 percent of the vote, Hermes Binner, is much closer to Kirchner ideologically than the other opposition candidates. The next three opposition candidates were Ricardo Alfonsin with 11 percent, Rodriguez Saa with 8 percent, Eduardo Duhalde with 6 percent. By winning over half of the vote, CFK supporters could argue that they could have defeated any unified opposition. That said, the divisions within the opposition certainly did not help. There was no leading opposition candidate for most of the race with two, three, or even four people competing at times to be the leading alternative to the president. Now, a divided opposition lacking clear leadership will make the president's job even easier.
---