Former rebel wins Bogota mayor race in violence-marred Colombia elections
(Read article summary)
The top news from Colombia's municipal elections was ex-guerrilla Gustavo Petro's victory in the Bogota mayor race. In farther flung regions the race was marred by violence and corruption claims.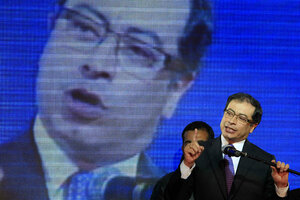 Fernando Vergara/AP
On Sunday, Colombia held local elections for governor, mayor and town council posts. El Tiempo breaks down the complex numbers while La Silla Vacia has ten points of analysis worth reading.
One key point of this election is the continuing breakdown of Colombia's political party system, something I've commented on before. No single party dominated this election across the country.
Additionally, this was an election with significant political violence (41 candidates murdered) and a troubling level of influence by criminal groups in certain regions of the country.
InSight Crime, Just the Facts, El Tiempo, BBC, and Al Jazeera all analyze the influence of criminal groups in these elections. The BACRIM certainly won some key local elections, providing access to local corruption, money laundering, land deals, and drug trafficking routes. Violence by former paramilitary groups and the FARC played roles in corrupting and influencing local elections in various regions.
---