President-elect Otto Pérez Molina inherits poverty, crime issues in Guatemala (video)
(Read article summary)
More than 50 percent of Guatemala's population lives in poverty, and the country has an alarmingly high murder rate. But Otto Pérez Molina is in a better position than his predecessors to deal with those problems, says guest blogger Mike Allison.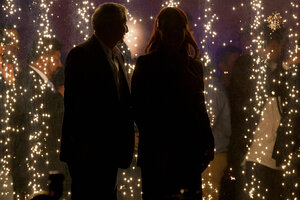 Moises Castillo/AP
On Sunday, just over 50 percent of registered voters turned out to help former general Otto Pérez Molina of the Patriotic Party (PP) defeat Manuel Baldizón of the Renewed, Democratic, Liberty (LIDER), 54 percent to 46 percent with 98 percent of the vote counted.
This year's election campaign was marred by violence (over 30 candidates and campaign-workers killed), the utter disregard of electoral laws (campaign spending and donor transparency, a failure to abide by the official start date) except when it suited them (Sandra Torres' disqualification), outlandish proposals (Mr. Baldizón's promise to lead Guatemala to the World Cup), and a one size fits all mano dura solution to crime and insecurity in Guatemala.
The president-elect does in fact confront a difficult situation (El Nuevo Herald, Telesur, NYT). Over 50 percent of the population lives in poverty. The percentage of the population living in poverty is much greater in the countryside and among the indigenous. Even though Honduras and El Salvador are now much more violent, statistically speaking, Guatemala remains one of the most violent countries in the world, especially for women. The country's economy is expected to grow by less than 3 percent this year which is among the region's lowest and that was before the most recent storm damaged infrastructure and crops.
---