Perez Molina and Ortega's political differences mask similarities on crime
(Read article summary)
Both Guatemalan President-elect Otto Perez Molina, a former general, and Nicaragua's President Daniel Ortega, a former leftist rebel leader, are apt to rely on military power to fight crime.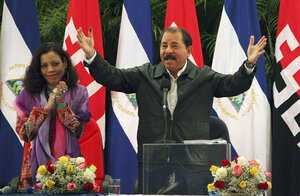 Diana Ulloa/Reuters
Guatemala and Nicaragua elected two former military commanders on November 6, whose vastly different political backgrounds belie their similarities on matters concerning organized crime.
Guatemala's General Otto Perez Molina spent much of his military career fighting leftist guerrillas in the highlands. He is part of what is known in Guatemala as the "30-70 generation," i.e., those that think 30 percent of the country is "beyond redemption."
How much Mr. Perez Molina has put this philosophy into practice is subject of widespread debate (and fear) in Guatemala. Some say as an officer in the army he took part in "genocide" of indigenous villagers in the early 1980s in a campaign that wiped out dozens of communities in the most brutal phase of the country's three-decade long war.
A widely circulated video clip of Perez Molina following a battle with rebels shows him as callous and possibly responsible for the line of dead bodies that flank him. He is also facing accusations that he participated in the 1992 disappearance and murder of a guerrilla fighter who was married to a US citizen.
But Perez Molina is much more complicated than his foes would paint him. He was largely responsible for aligning the various hard-line military factions behind the peace process with the rebels that ended the war in 1996. And he has distanced himself from ex-military officers who have been connected to organized criminal groups, popularly known as CIACS.
---