Washington Nationals player Wilson Ramos abducted in Venezuela
(Read article summary)
The abduction of Washington Nationals player Wilson Ramos seems to be the first of a Major League Baseball player in Venezuela, although both homicide and kidnapping have soared.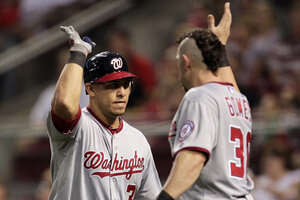 John Sommers II/Reuters/File
Venezuela's President Hugo Chavez – his travels and his tirades against the US – dominate news headlines in the US.
But while Venezuela's very serious crime problem is a growing issue for the president, it rarely gets the attention in the US that, say, Mexico's drug violence does.
That might change with some sad news today: An American professional baseball player, Wilson Ramos, was kidnapped in his native Venezuela. He is a catcher for the Washington Nationals.
A Washington Post blog says he had headed home to Venezuela for the winter. "He is one of the Nationals' best, most promising players, a rookie this past season who became the Nationals' regular catcher."
The youthful and handsome Ramos, just finishing his rookie season, was apparently abducted at about 6:45 p.m. in his home, about 100 miles west of the nation's capital, Caracas, on Wednesday. Four men drove him away in an SUV, reports say.
He was home to play on his Venezuelan league team, the Aragua Tigers. The spokeswoman of that team confirmed the kidnapping via Twitter. "This is sad, worrisome and true that Wilson Ramos has been kidnapped," Katherine Vilera wrote.
His Nationals teammates sent out notes of sympathy and hope for his safety over Twitter. See a sampling of their words here.
The Associated Press says the kidnapping "appeared to be the first case involving a Major League Baseball player."
---