How the IMF and World Bank could save Cuba's economy – defying the US embargo
(Read article summary)
A new Brookings Institution report from Richard Feinberg offers a plan for the international community to aid Cuba's economic reforms, even in the face of US opposition.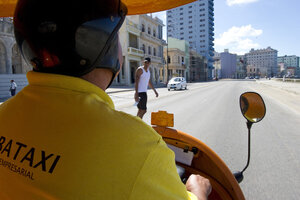 Alfredo Sosa/The Christian Science Monitor
I've just finished reading a new report by Professor Richard Feinberg, a former Clinton administration official and non-resident fellow at the Brookings Institution. "Reaching Out: Cuba's New Economy and the International Response," clocked in at a daunting 101 pages but should nonetheless be required reading for anyone following the island nation's long-awaited economic restructuring.
Cuba's economic transformation is a hot topic, to be sure; another excellent report, Cuba's New Resolve: Economic Reform and Its Implications for U.S. Policy, written by Cuba expert Collin Laverty for the Center for Democracy in the Americas, offers a detailed look at Cuba's economic reforms to date, and in so doing, lays to rest any question of whether these reforms are just a temporary fix or irreversible. If Cuba's New Resolve argues that Cuba is serious about its economic reforms, Reaching Out offers what the international community should do about it with an 800-pound gorilla – the US embargo – in the room.
I'll admit that after reading Professor Feinberg's introduction, I next skipped to the middle for both a history lesson and a pragmatic, creative vision for Raul Castro's Cuba to reconnect with the International Financial Institutions (IFIs) – the World Bank and the International Monetary Fund, as well as with regional development banks – in spite of opposition from the United States.
---