Tunnel-detection technology at US-Mexico border: Is it worth the effort?
(Read article summary)
The US government is researching use of robots, microgravity sensors, and other high-tech tools to find smuggling tunnels under the US-Mexico border. But police work may be the most effective tool.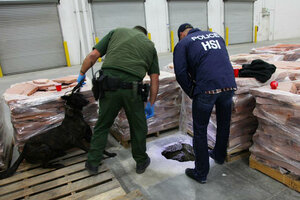 Reuters/Handout
As smugglers' tunnels between the US and Mexico grow increasingly common, Washington is pouring resources into the search for a high-tech solution to the problem, when old-fashioned investigative work might be more effective.
On November 16, a security team created exclusively to hunt down tunnels, known as the San Diego Tunnel Task Force, announced the seizure of 17 tons of marijuana after they discovered a passageway connecting the US border city with Tijuana. According to the Los Angeles Times, the tunnel ran the length of four football fields and descended 20 feet underground. Authorities have discovered over 70 tunnels in the San Diego area since 2008.
The same day, another tunnel was discovered in Nogales, Arizona, bringing the number of tunnels found in that state during the last fiscal year to 12.
---